Comments Off on Escape the hustle and live among history
As our days continue to fill with clutter and and over charged media, it often makes one desire a slow down in life; a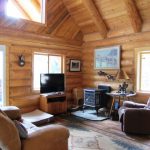 mere escape from it all. There are some who go to such extremes as complete off-the-grid living, tucked far away where they are detached from the hustle. Then there are some who seek a happy medium. A place to call home that is remote, yet offers the comforts of modern living. Look no further than this gorgeous log home in a private, forested setting.
Beautifully situated near the historic mining town of Granite, Oregon, this custom built home was resurrected in 2005. The home itself sits on 18.50 acres and features 2 bedrooms and 2 full bathrooms, laundry room and a gorgeous kitchen area. This open, yet cozy living space is complete with internet access. Enjoy the peace and quiet on the covered deck,
or sit around the fire pit! Property includes a RV parking and an outbuilding used as a shop.
Should you desire more property, the historic Red Boy mine site is available (over 63 acres), along with other parcels. The Red Boy historic mine site includes a shop and cabin (habitable with electricity).
Click here for a preview video of this spectacular, one of a kind, property!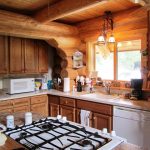 Interested in more? Contact Andrew Bryan, 541-523-5871.
Comments Off on Baker named the safest city in Oregon
Baker City is famous for its outdoor recreation, thriving arts scene, beautiful historic buildings and traditional Western heritage. We probably take it for granted that Baker is a safe place but a recent study puts us at the top of all Oregon cities.
Safe Choice Security News earlier this month ranked Baker first on its list of the 12 safest cities in Oregon. The site analyzes FBI crime statistics to arrive at its conclusion, but it also considers other factors. According to Safe Choice Security News, "with a disaster preparedness plan, a Citizen on Patrol program and a dedicated police force, Baker City is the safest place to live in Oregon." With a violent crime rate of 1 per 10,000 people last year, you are more likely to be injured skiing or hunting than you are to be robbed in Baker.
Not only is Baker the safest city in Oregon, it is safer than 90 percent of US cities. The second-place Oregon city, West Linn, is safer than 77 percent of US cities.
Agreed, most smaller towns tend to be safer. But it's important to consider what such a low crime rate means for quality of life. It means people can enjoy a nice lunch or dinner on a sidewalk cafe downtown, or attend one of our many local festivals, and not have to worry about getting assaulted, or their car or home getting broken into while they have fun. It means residents and visitors can enjoy our campgrounds with safety. It means people can park overnight in an RV and not have to worry about it getting burglarlized. It means businesses can set up shop, confident their store will be secure. It means people are less guarded and suspicious and therefore more friendly and welcoming.
Low crime is an essential component of not only quality of life, but also of economic development. As Baker tries to attract more businesses, we should use our great reputation for safety as a selling point.
Comments Off on Historic commercial Heilner building is dressed up and ready to go
One of the nice things about being a Realtor in Baker City is coming into contact with historic commercial properties that have such amazing stories behind them. We are currently marketing a building at 1901 Main Street in Baker that has such a history, as well as a bright future.
This building is special for other reasons: It has served most recently as a local events center, hosting town hall meetings, dances, Baker Orchestra concerts, fundraisers, holiday celebrations, company parties, Eastern Oregon Theater productions, art shows and exhibits, weddings, parties and more.
Sigmund Heilner, a pioneer Jewish merchant in Oregon, constructed the building in 1874. An immigrant from Bavaria, Heilner commanded an expedition that supplied guns to volunteers fighting an Oregon Indian War in 1856. He was involved in insurance, mining, hides, grain, wool and established the first bank and telephone system in Baker.  As his business kept growing, so did the building, which encompassed not only a hotel, but a brothel of great reputation. The building still shows where a basement corner entrance (now filled in) accommodated discrete gentlemen.
The Heilner building has always been at the center of action downtown, at the intersection of Main and Court streets. Every parade, festival and rally that happens in Baker, happens in front of this building. It is a superb location!
The current owner renovated the building in 2012, bringing it up to modern codes, refinishing the first level wood floors, updating its utilities and installing a new roof. The basement, first floor and second floors are each 5,000 square feet and there's a beautiful mezzanine above the main floor.  An architect who specializes in renovating historic buildings guided the work.
The main floor has two public bathrooms, three walk-in sidewalk display windows, an office with a huge walk-in safe, a large catering/break room, a utility room an electric closet.
The building has two public entrances from the sidewalk and one alley entrance.
The mezzanine has two bathrooms, an office, a dressing room and a conference room and two stairways to the mezzanine.
The basement has one bathroom, three storage rooms and a large main room, a maintenance/shop area and one stairwell to the main floor.
The second floor is mostly unused and has not been renovated, but it is clean and in good shape. It is wired and plumbed and ready to be hooked up for something.  The top floor entrance is reachable from an exterior stairway from the street.
The catering/break room is not a commercial kitchen but could be converted to one. For now, caterers bring their food in and use the room for preparation and serving.
The Heilner Building has lots of exciting possibilities and is priced incredibly well at $245,000. While the building no longer has dwellings, the city will permit living spaces to be constructed so it could have lofts, a hotel or up to 10 bed and breakfast rooms, most of which would have views of the downtown and/or mountains. The roof could also accommodate a "roof garden" for events.
Comments Off on Realtors pitch in
Realtors have a vested interest in the well-being of a community, both sociall and economically. A thriving town means more business, more jobs, more local investment and more development and buying/selling of real estate.
Below is a recent news article published in the Baker City Herald that shows the great involvement of the Baker County Board of Realtors in a local giving program. As a member of the board, we at Baker City Realty are proud to support these projects. They include capital investments, as well as events. See this page for a more complete list of charitable projects Baker City Realty also supports.
The Baker County Board of Realtors has announced the recipients of the Board's 2013-2014 Community Giving Program. This program seeks local projects, families in need, or organizations to assist and give support.
Recipients of the program were: the Baker County Fair, Jean Main  Benefit, Rhea Bunch BHS Rodeo Team Memorial, Dr. Jon Schott Honduras Medical Mission, Northeast Oregon Compassion Center, The Leo Adler Museum, CADA, YMCA, Geiser-Pollman Park Playground Improvement Project, and Baker High School Drug-Free Senior Party.
According to a press release, "The Board of Realtors is grateful for opportunities to serve our community in these meaningful ways."
For more information on the Board's Community Giving Program, contact the Baker County Hoard of Realtors, in care of Nelson Real Estate, 845 Campbell St., Baker City, call 541-523-6485, or ask a Baker County Realtor about the program.
Comments Off on Baker City Realty welcomes outdoor enthusiasts, area natives to its team
News release: Baker City Realty adds outdoor enthusiasts, area natives to its team
For more information:
Andrew Bryan, 208-484-5835, andrew@bakercityrealty.com
Bethany Micka, 541-519-7791, bethany@bakercityrealty.com
Chelsea McLagan, 541-403-2808, chelsea@bakercityrealty.com
Baker City Realty has hired two outdoor sports enthusiasts who are also Oregon natives, one as a Realtor and the other as an office manager in training to become a Realtor.
Bethany Micka, who grew up in Baker City and has lived in La Grande since 2011, has been hired as a Realtor. She enjoys downhill skiing, motorcycling, fishing, gardening, biking and backpacking with her dogs, home improvement projects and renovating investment properties.
Chelsea McLagan is from Bend but has lived in Baker since 2007, has been hired as office coordinator and is training to become a Realtor. She is a certified Bikram Yoga Teacher and an avid snow sports enthusiast, runner and archer.
"Bethany's and Chelsea's enthusiasm for outdoor recreation is a huge plus for our agency, as many people wish to relocate to Baker for its outdoor opportunities," said Andrew Bryan, owner of Baker City Realty. "They were raised in the region, giving them insights into local property opportunities that only a native can have."
For the past 13 years, Micka has worked as a US Forest Service dispatcher and firefighter. She holds a bachelor's degree in liberal studies from Eastern Oregon University. McLagan has worked as marketing director and assistant operations director at Anthony Lakes Mountain Resort. McLagan earned a bachelor's degree in Business Admin from Oregon State University-Cascades.